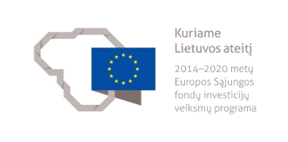 New e-commerce solutions UAB "Telekomunikaciniai projektai"
UAB "Telekomunikaciniai projektai" from 2022 February implements the project under the measure "E-commerce model Covid-19". In order to carry out profitable activities in the market affected by Covid-19, as well as to increase the attractiveness of the services provided and the productivity of the company, an electronic store will be created within the scope of the project. The implemented e-commerce solutions will consist of conditions for all those interested to choose the company's goods and services and pay for them quickly and conveniently, remotely. Thanks to the results of the project, it is expected to better respond to the needs and expectations of customers, to create favorable conditions for the growth of the company's income.
The project is financed by the European Regional Development Fund as a measure of the European Union's response to the COVID-19 pandemic.
Project name: UAB ,, Telekomunikaciniai projektai" e-commerce model implementation
Project number: 13.1.1-LVPA-K-860-01-0408
Project start: 2022 February 22
End of the project: 2023 February 25
Project value: EUR 25,570.00 (including support funds - EUR 19,177.50).